More on the "Odds Maker":
In the alpha-version, currently undergoing internal tests, the "Odds Maker" is really living up to what we think will be the next big breakthough in the Active Trading space. We know it sounds very boastful but the results we see really make us excited. So let's share more of our thinking about how the Odds Maker will come to market.
We know there are going to be tons of questions when we release this in beta. In anticipation of these questions we offer you, or blog readers, some answers.
1. Q: If the "Odds Maker" is so good, why are you guys selling it. Why not just use it yourselves and buy an Island?

A: The "Odds Maker" is not a green light – "buy"; red light – "sell" black box system. It does not attempt to predict the future price of stocks. It also does not replace a trader's ability to manage risk in the form of money management, position sizing, etc. What it does do is help a trader figure out which Trade-Ideas strategy is a high odds strategy of success – one way we define success is a strategy that's most in tune with the market and demonstrating more winning trades in recent days than losses.
Think of watching poker on ESPN and the ability to see the probablity of what the poker players are holding and who has the better chances of a winning hand. The information is not a guarantee of winning but it does gives you a better idea of what to do – stay in or fold.
2. Q: How far back can you back test the strategies?

A: The Odds Maker allows you to have a system that trades 100 trades a day and goes back approximately 2 ½ weeks. So you could have approximately 1200 trades from which to test and develop a win-rate probability.
3. Q: Is the Odds Maker going to be available on the Web based version of Trade-ideas?

A: No, it will only be available in Trade-Ideas Pro version 2.0.
4. Q: Will there be a trial period to test and evaluate the Odds Maker?

A: Yes, when we initially release the beta version of the product at the
end of August
, everyone who is a Trade-Ideas customer and who upgrades to the new beta version, will access the Odds Maker for free. Once the Odds Maker is formally released (some time
in September
), a user will have 10 opportunities with which to evaluate strategies – on the 11th evaluation, they will be prompted to pay.
5. Q: How much will the "Odds Maker" cost?

A: The "Odds Maker" will cost a one time fee of USD $1,100. During the beta period the following discounts are available: For the month of September the price is $900. On October 1st the price will be $1000. On November 1st the price will be $1,100. Payment is possible via these links:
6. Q: How do we find the "Odds Maker" in Trade-Ideas Pro?

A: We did some redesign in the user interface of Trade-Ideas Pro version 2.0 so that the "Odds Maker" will be visible in every window.
7. Q: Why is it so expensive?
A: There's no comparable tool of any stripe for traders like the Odds Maker. It will be a very disruptive technology. Because of its unique ability to provide long term, continuous improvement to trading performance, there is a one time fee. We believe everyone will feel that the Odds Maker improves trading plans by revealing what strategies consistently make profitable trades.
8. Q: How is the "Odds Maker" different from TradeStation, MetaStock, Wealthlab, or other products that let you backtest strategies?
A: These products generate their share of followers and are good tools for a particular type of trader that prefers creating formulas and programming detailed code with which to test strategy. These tools are difficult to use and frustrate most people who can't get past the manual. We understand how hard it is to program and backtest. We avoid this approach that uses a micrometer to measure a mudpuddle. The Odds Maker's strength is in its simplicity to use - a design mantra we always adhere to.
Additionally in those products you test 'single securities or complete portfolios'. The Odds Maker evaluates the entire market, meaning multiple stocks at the same time. Right away you will know if your strategy set-up produces high probabilities of winning trades given the current and most recent market conditions.
Finally the way the Odds Maker is priced generates value to our customer. Some of the other products require a subscription to use the service. The Odds Maker is a one-time cost that grows in value the more it is used to improve a trader's performance.
9. Q: What is a good result and what is a bad result in the "Odds Maker"?

A: The Odds Maker evaluates strategy set-ups and returns a number representing the probability that each alert will produce a winning trade. If you can get a strategy over 60% you are definitely going in the right direction. Obviously you want to avoid low odds strategies, but in reality finding a strategy that returns a low probability is actually good because you can flip the direction of the trade (for example from going long to selling short) in the Odds Maker configuration (See Q12).
For example if you find a long strategy with a 20% chance of success, try switching the trade direction and indicate to the Odds Maker that each alert is an opportunity to short a stock. Then see how close to 80% you are. The most significant situation to
avoid
is a strategy that returns a probability result between 45-55% in your favor. This means that the set-up is too close to a coin flip – you are better finding something else. The Odds Maker will provide additional information such as how many total points were won or lost using a particular strategy and what were the average winners and losers.
10. Q: If I buy the "Odds Maker" and then decide that I don't want it. Can I get a refund?

A: Refunds will not be available. All users will have ample time to test the new software feature with 10 opportunities to evaluate strategies and decide if the tool is right for them (the 10 evaluations do not expire). If you decide that you want to purchase the "Odds Maker" it will cost $1,100 dollars.
11. Q: If I find a strategy that returns a probability of 65% or higher does that guarantee that I will be right 65% of the time?
A: No, the result is interpreted as follows: based on the current performance and recent history of this strategy as well as the overall market conditions, the next alert from this strategy contains a 65% probability of being a winning trade. Past results never guarantee future performance. The Odds Maker informs a trader what the conditions for a winning trade are given a strategy s/he creates.
Nobody can predict the future, but you can play the odds.
12. Q: What will the "Odds Maker" configuration window look like?
A: The final version is not complete; however, below is a picture of a work in progress.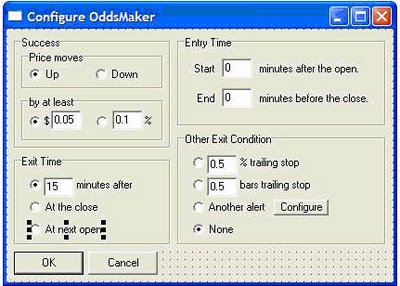 We look forward to more questions as we get closer to the new software release.
More articles about The Odds Maker: